~ Roaning ~ What is it? ~
Many people have asked me 'What is a roan?'
Roan dogs:
Wikipedia
The genetics behind roan dogs are still unclear, and at present candidate genes have been ruled out.[6] There remains a great deal of ambiguity in terminology regarding mottled dogs, which are called roan, ticked, mottled and belton depending on the context. The roan or ticked color is described in many breeds of gundogs such as English Cocker Spaniels, American Cocker Spaniels, English Springer Spaniels, Field Spaniels and Brittanys, German Longhaired Pointers, German Shorthaired Pointers, Spinoni Italiani, Lagotto Romagnolos and English Setters, as well as Border Collies and many other breeds.
In dogs, roan manifests itself only in unpigmented areas, the presence and shape of which are determined by other genes.[7] This is in stark contrast to true roan horses and roan cattle, which are roan only in pigmented regions of their coat and may have white markings. Instead, dogs with roaning or ticking are born with clear, open white markings which begin to fill in with flecking in the subsequent weeks and continue to darken with age.[8] Most breed standards use the terms "ticked" and "roan" interchangeably, with the former referring to clearly defined flecks on a white background and the latter to flecks so closely spaced that the mixture appears even.[9] The terminology that relates the underlying coat color with the roan modifier is often breed-specific, but most standards call a black dog with roaning blue. In breeds that are characterized by roaning and ticking such as the Large Munsterlander, clear white-marked individuals may be called plated.[7] The term belton is reserved for English Setters.
Please find below some pictures to show how pups change as they grow and how Blue Roan colouring comes out as they mature.
Below that you will see what a liver roan pup looks like and how they change as they mature and their colours come out.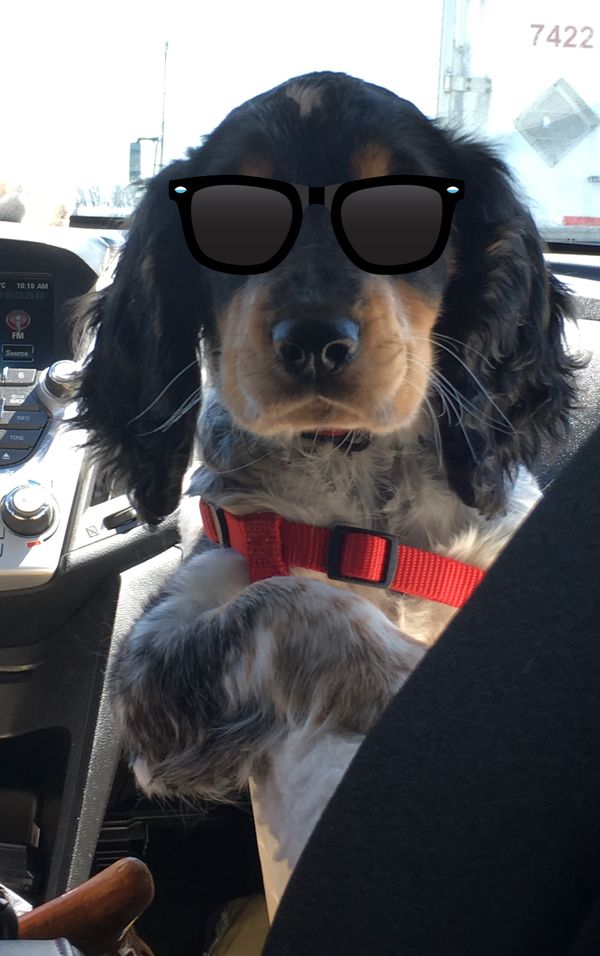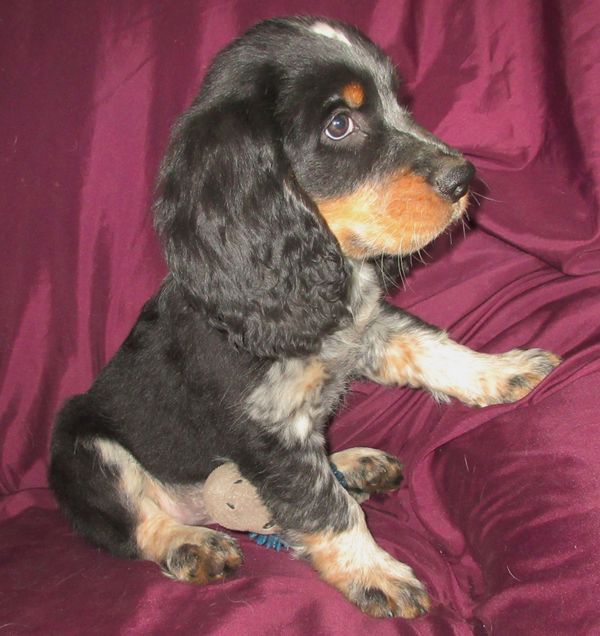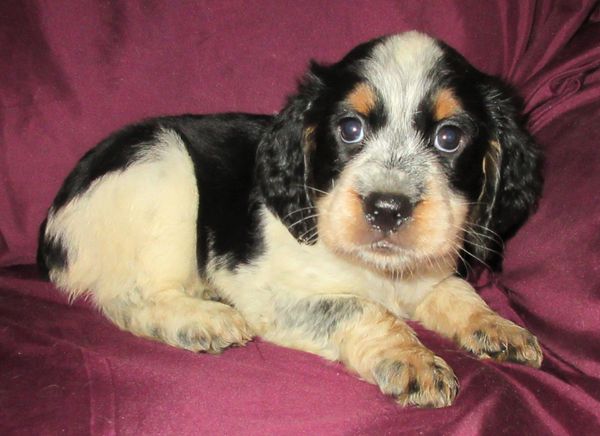 ~ Examples of Black & White Blue Roans ~